PREMIER SELF-PARK
Portland
6455 NE 82nd Avenue, Portland
(503) 255-6374
Airport Parking Made Easy
When you arrive at Portland Park Shuttle 'N Fly simply park in one of our conveniently located stalls. Our professional staff will pick you up at your car, help with your luggage, and take you directly to the terminal. Enjoy a stress free trip knowing your car is in a fenced facility with around-the-clock staffing. It's as simple as that!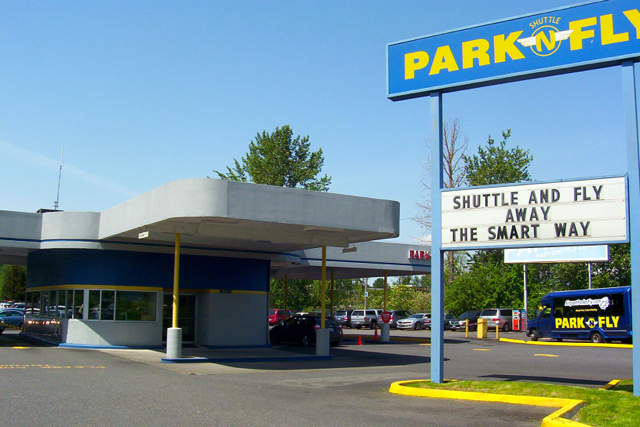 Footsteps to your Flight
We are conveniently located just 3 miles from the airport, so we'll get you parked, picked up and to your flight safely within 7-10 minutes. Once you are away you can rest easily knowing that your car is secure. Our parking facilities are staffed 24 hours daily, with security fences and gates protecting your vehicle.
Reserving your parking spot at Portland International Airport is a breeze with Park Shuttle 'N Fly's online reservation system. Located within a few minutes from the airport, our 550+ car lot is the perfect place to leave your vehicle while you travel. Use your laptop, tablet, or computer to reserve your spot online and relax knowing your car will be secure while you enjoy your vacation.
Our corporate account program fits any size of business that needs to provide their frequent travelers with the best service and rates.
Apply online
or ask us for an enrollment form on your next visit.
We believe in providing you with affordable airport parking that is dependable and easy. Our job is help you get where you need to go while keeping your car safe during your absence.
You shouldn't have to worry about your car while on vacation. That's why we provide a fenced lot with 24-hour service to ensure you start and end your vacation with ease. We're always open and ready to help.
Propane autogas-fueled shuttles reduce our carbon footprint by 90 percent compared to traditional gas-fueled vehicles. We take pride in doing our part to take care of the beautiful Pacific Northwest.